Below are details of our addiction detox and rehabilitation clinics in America. To find out which treatment centre is right for you, please contact us.
Addiction Detox & Rehab Centre in Los Angeles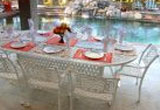 Exclusively for females, this clinic is within a country estate, hidden in an exclusive neighbourhood, providing a safe and nurturing environment necessary to address recovery issues personal to women.
America as a Destination for Addiction Treatment
Some of the most respected addiction treatment programmes in the world are to be found in the United States. It is understandable, then, that people will want to travel there for help from the UK and other English speaking parts of the world. These days, medical tourism is a realistic option for most people, and it can be a great decision to travel abroad when looking for the help you need. Two of the main driving forces behind this form of tourism are that it means having options not available at home, and it can mean finding a top-notch programme for less than it would cost at home. Our team has plenty of expertise in placing clients in rehab clinics in America, and if you call us here on 0800 024 1475 (or +44 203 1511488) outside of the UK we will be glad to help.
What to Look for in a US Rehab Clinic
There are hundreds of high quality addiction treatment programmes to choose from in the US, so it is important that you have the right information to make an informed choice. This is not the type of situation where you can put your faith in potluck. Choosing the right programme can have a huge impact on your ultimate success in recovery. It means that the individual will be more likely to gain the tools they need to help them cope with life. The real goal of this type of programme is to provide the person with a solid foundation for the rest of their life, so by choosing the right type of rehab, the individual will be giving himself or herself the best possible start. Different programmes will suit different types of people and some of the things to consider will include:
??? The treatment modalities used
??? The underlying philosophy of the programme
??? Resources available to residents
??? Length of the programme
??? Does the facility accept first stage clients ??? those people who need to be supervised through detox
??? What is the completion rate for the programme ??? do most people stay for the duration of the programme?
??? The availability of aftercare ??? this is something that will be of particular importance to people who are returning to the UK after treatment
??? Level of comfort in the rehab
??? Number of clients at any one time
In the box below you will see that we have highlighted some treatment facilities in the United States, and you can use our search function to find more. We would advise though, that you contact us to find out more about what is available.